The Casualization of Destruction
Upcycling ammunition into eyewear
"I want to call attention to the casualization of destruction with the 357 line" explains Zack, the creator of 357. "Not just the destruction of humans, but of our planet in general. We have casualized destruction to such an extent that the necessary tools can be acquired for free. And we don't have the power to stop ourselves."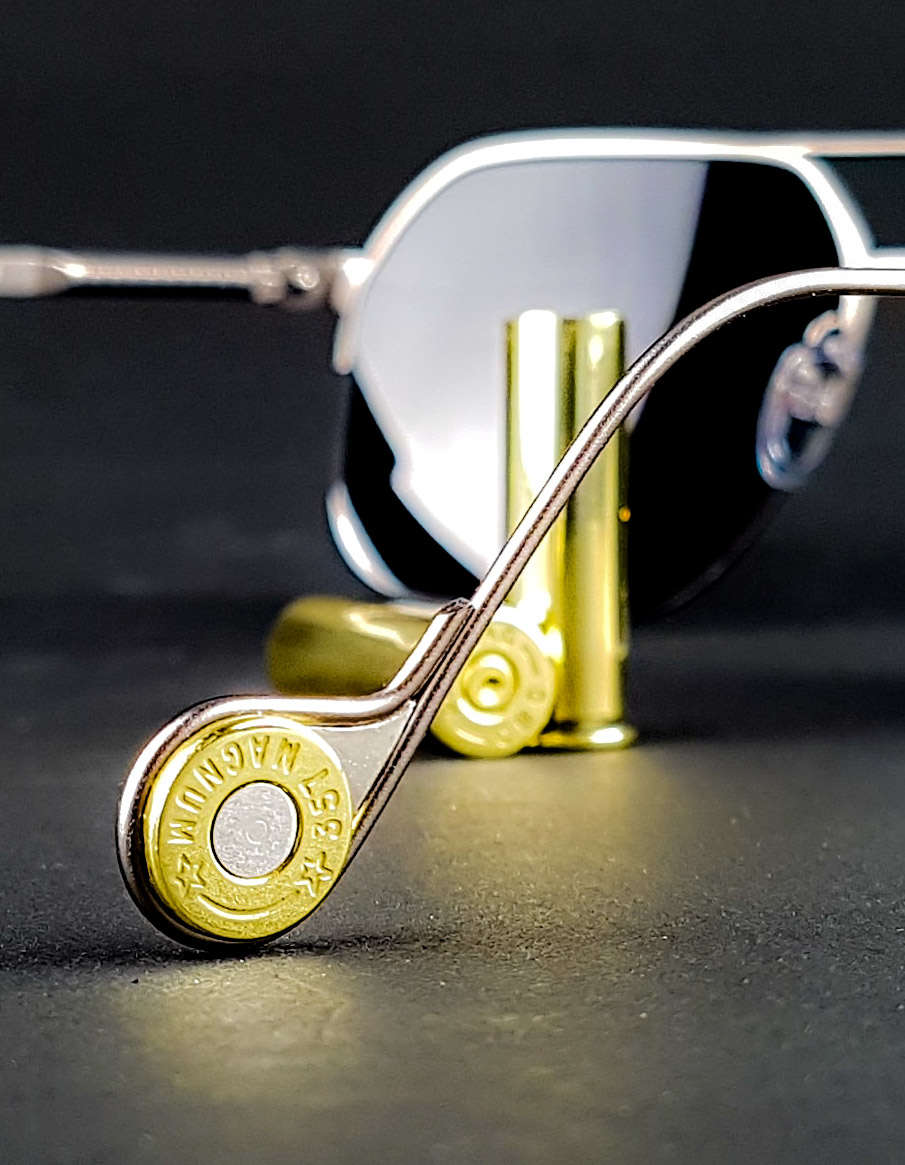 The new 357 line provoked a powerful response when it was unveiled at secret showings in Paris and Las Vegas recently. "Some of my customers saw it and said right away they'll take every piece. Others said that they don't even want to see it." says a delighted Zack Tipton of Vinylize. "If I can elicit such a powerful emotion, that means I have achieved success as an atrist" "I know that the use of such a controversial element will anger some people. I am ok with that. I am not interested in being friends with everybody."
VIEW ENTIRE COLLECTION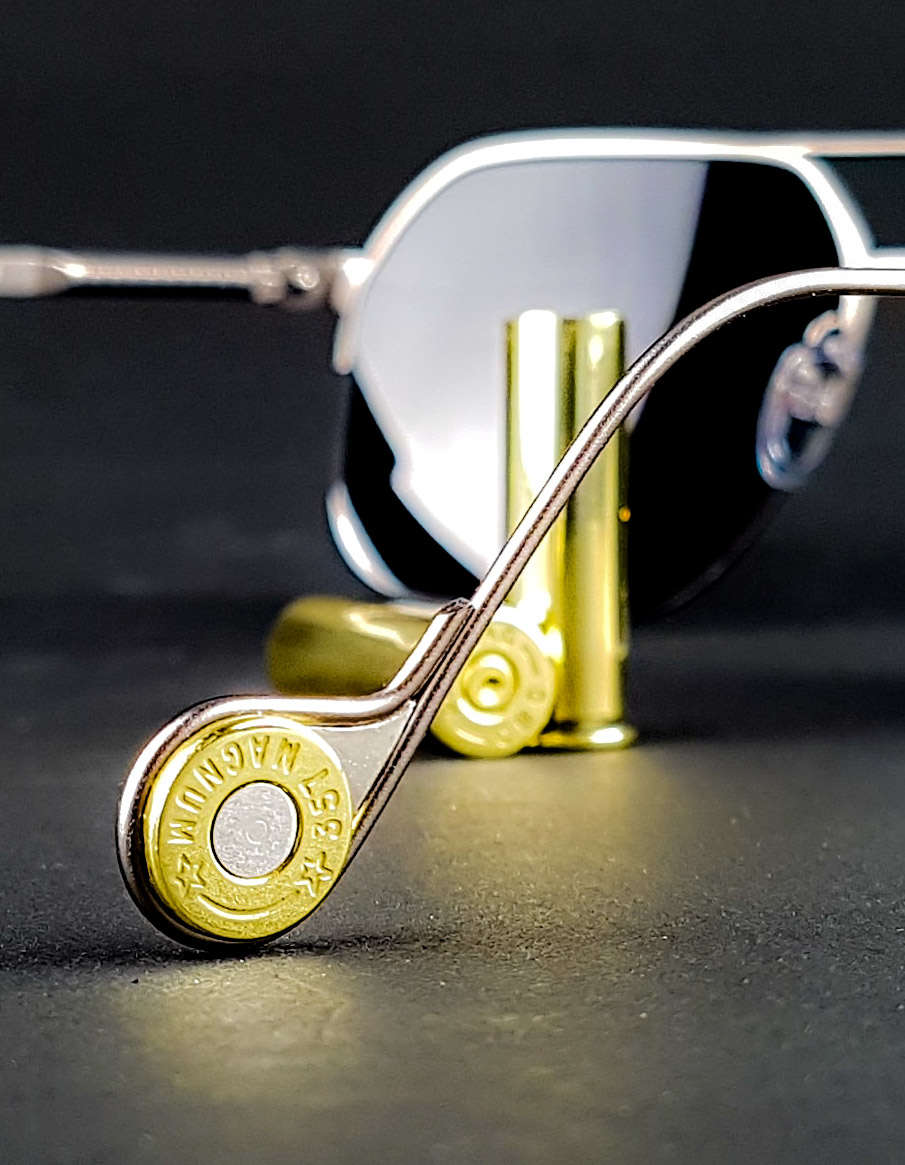 Birth from Death
"I want to call attention to the casualization of destruction with the 357 line" explains Zack, the creator of 357. "Not just the destruction of humans, but of our planet in general. We have casualized destruction to such an extent that the necessary tools can be acquired for free. And we don't have the power to stop ourselves."

The new 357 line provoked a powerful response when it was unveiled at secret showings in Paris and Las Vegas recently. "Some of my customers saw it and said right away they'll take every piece. Others said that they don't even want to see it." says a delighted Zack Tipton of Vinylize. "If I can elicit such a powerful emotion, that means I have achieved success as an atrist" "I know that the use of such a controversial element will anger some people. I am ok with that. I am not interested in being friends with everybody."
VIEW COLLECTION

The first brand to use spent ammunition
The new 357 line from Vinylize incorporates spent cartridge cases as a functional element. Cartridges, otherwise known as casings or brass are the part that hold the bullet, gunpowder and primer. Casings are made from brass which is also one of the most popular metals used in jewelry making. More than 12 billion brass casings are produced globally every year. Each brass casing is machined to fit the temple tip and then washed before being swagged into the temple of a 357 frame.
Crafted to deliver performance for years
357 is inspired by the philosophy of the modern firearm with emphasis on balance, durability and design
Named after one of the most iconic cartridges ever, the .357 Magnum cartridge, the line features state of the art materials and technology. The frame front is stainless steel and uses a semi rimless construction to hold the lens in place to reduce frame front weight. A compressed spring is discharge machined into the beta titanium temples for maximum flexibility and comfort. An original 357 Magnum cartridge is swagged into each temple tip to create a counterweight. This element is visible in the end product and keeps the frame from slipping down the nose.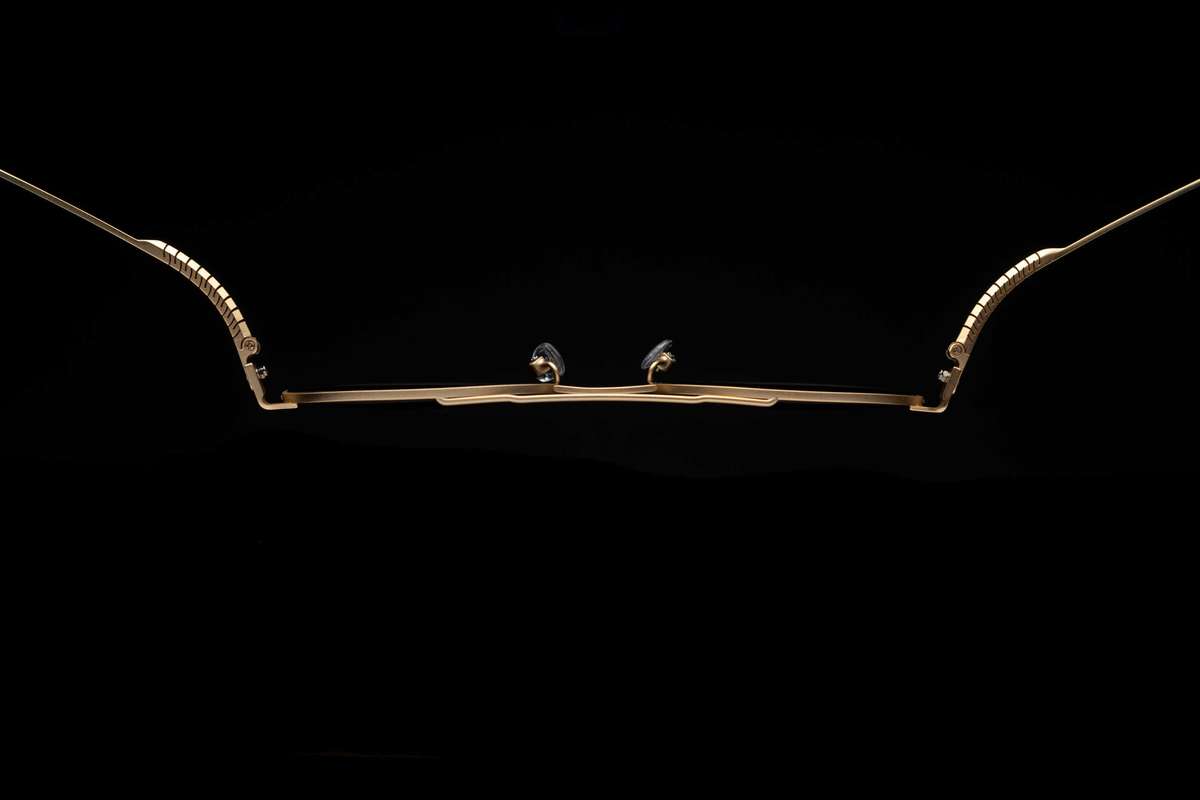 Titanium temples incorporate an electric discharge machined compressed spring for flexibility and comfort.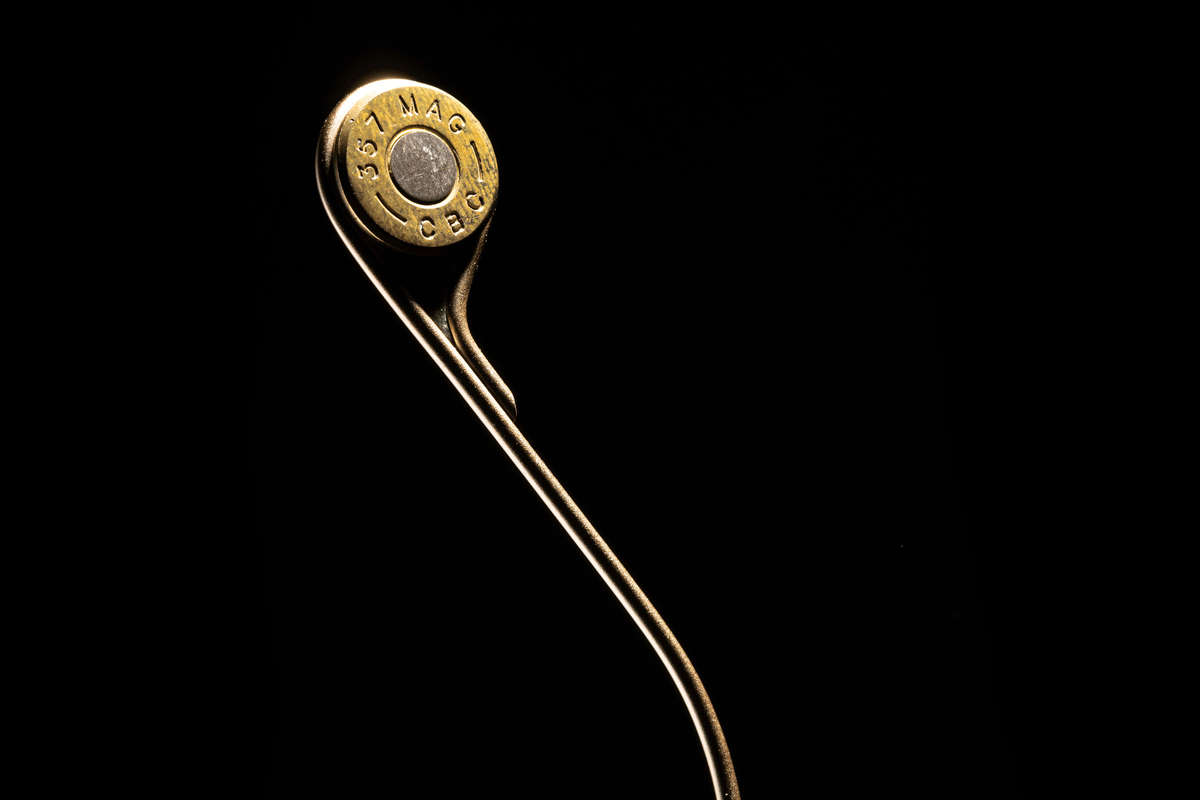 The counterweight weighs 5 grams per pair and is made from the iconic .357 Magnum cartridge.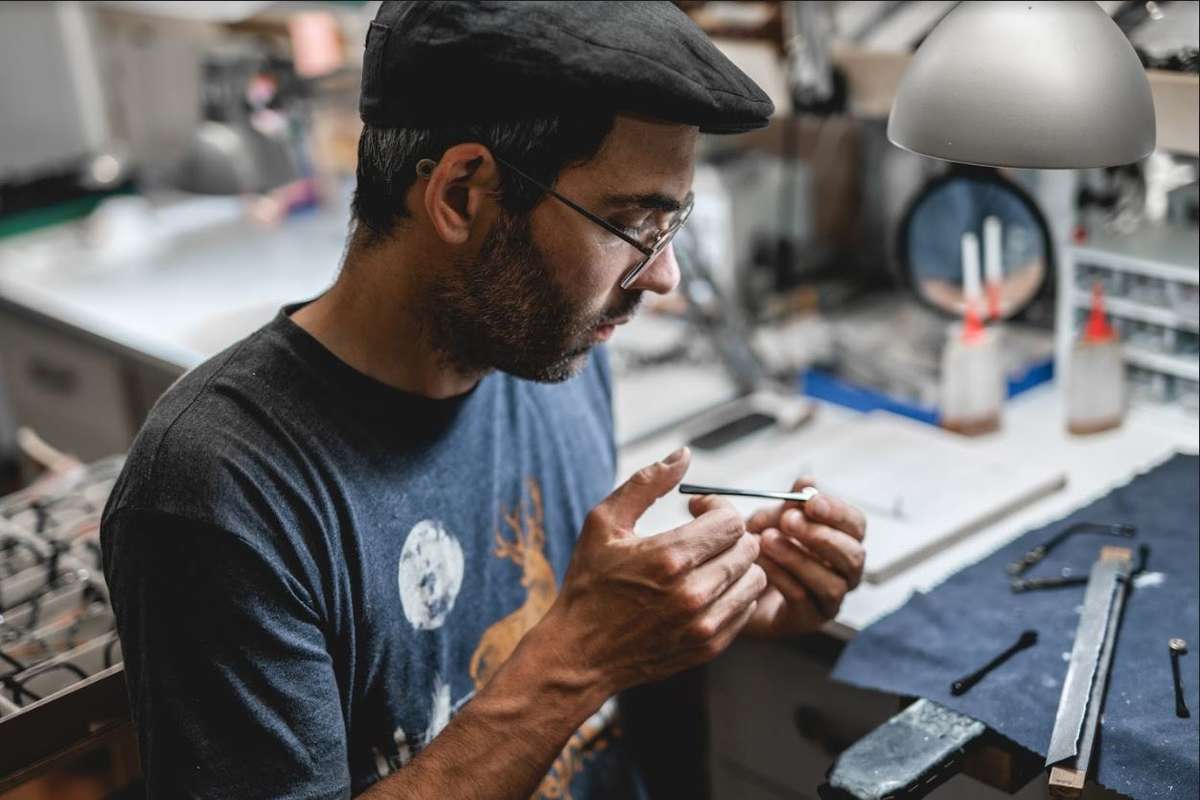 "I wanted the Caliber Collection to be best eyewear my customers could ever buy," says Zack. "This meant they need to last. Plant based plastics lose strength and become deformed by light and heat simply because they're exposed to elements like UV rays. The metals and plastics we've selected will stay strong and retain their integrity for decades."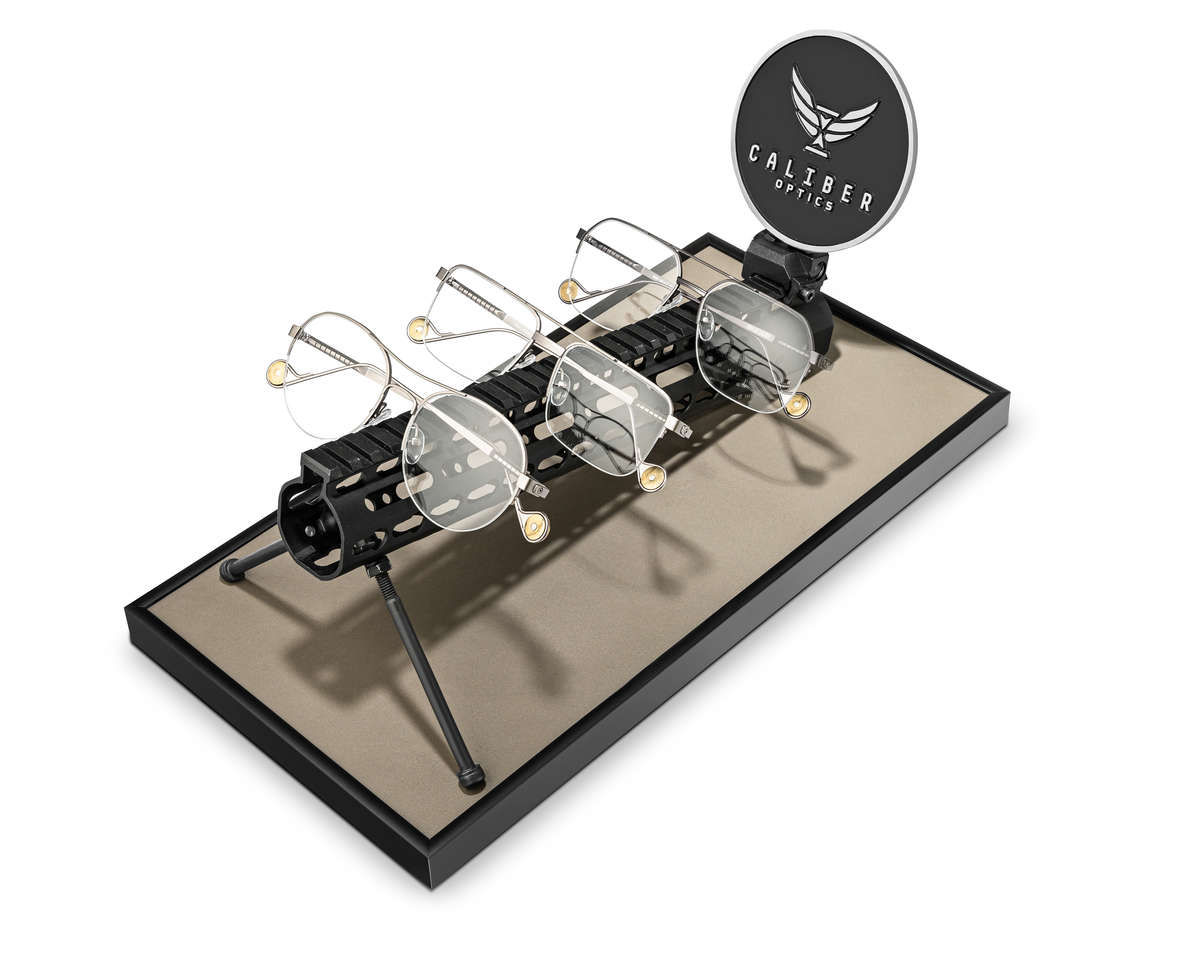 As you'd expect from Vinylize, an eagle-eyed attention to detail characterizes packaging and point of presentation material. The point of purchase display is made from rifle hand guards.
The story behind a pioneering counterweight
Each piece in the 357 line features a counterweight made from the rim of the bullet casing. The left field but highly logical idea to use spent bullet casings in eyewear came when Zack found some 9mm casings in Maui a few years ago.

"Nearly all frames are front heavy, which can cause them to slip down the nose," Zack explains. "I'm inspired by everyday discarded man made things I come across and I realized that the heavy brass from the casings I found could be used on the temple tip as a counterweight to help glasses stay on the wearers' face."